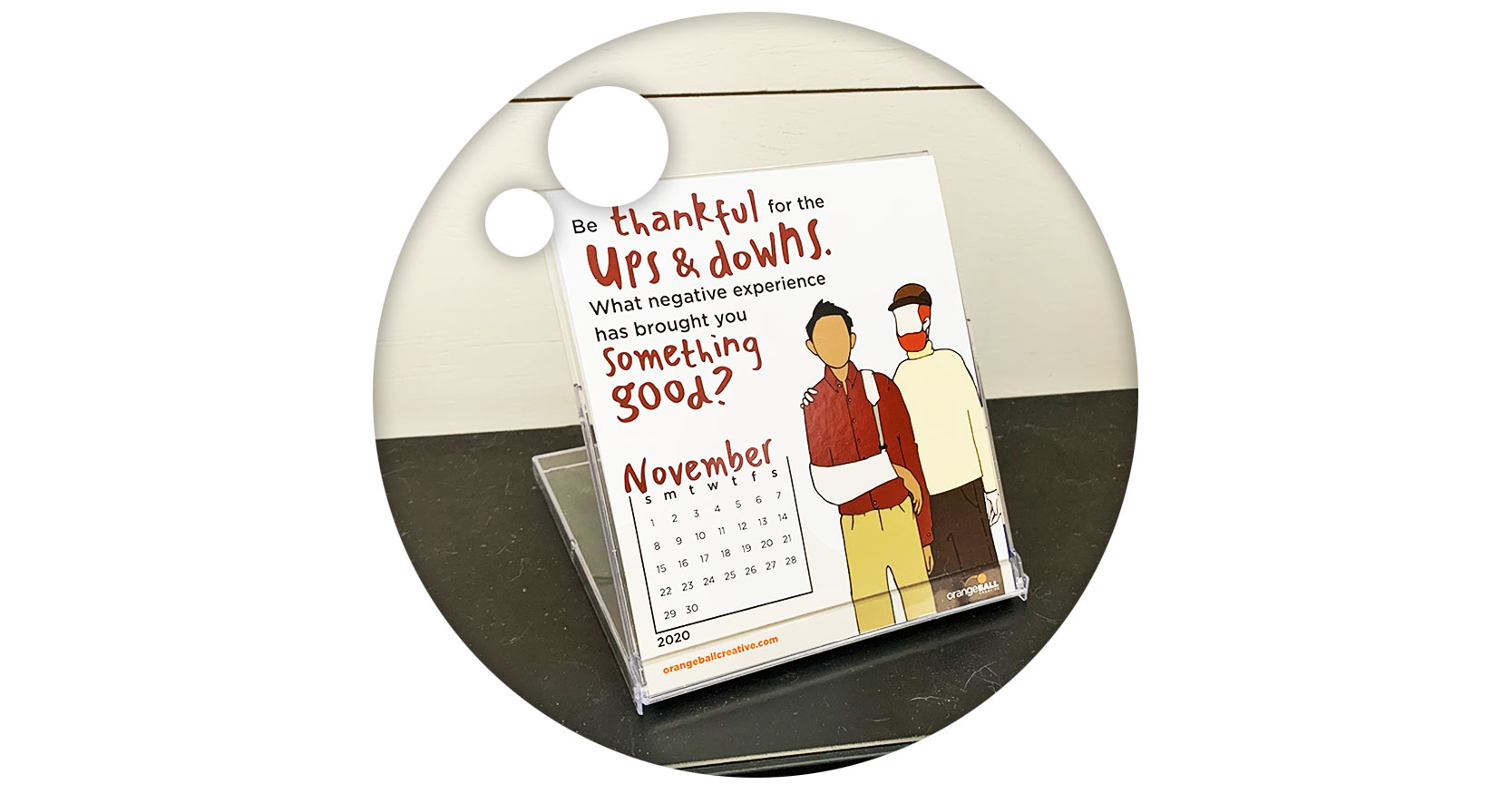 Finding 2020's Silver Linings
"Be thankful for the ups and downs. What negative experience has brought you something good?"
We wrote that back in 2019 (right about this time of year, in fact) as we were preparing our 2020 Bounce calendar, specifically for the month of November. The theme of the full desk calendar was "Challenging you to bring positivity to 2020!" We had no idea then what that would mean today…
Looking at November's theme sitting on our desks, that reminder to be thankful for the ups and downs is a good one. It's been a year full of peaks and valleys, and in some respects, we all know it's not done yet. There will be a few more challenges to come before 2020 bids us farewell.
This message, though, to be thankful for the ups and downs, is worth reflecting on. Even amid the lows, there have been highs. We've spent more time with our families. We've been forced to slow down a bit. We've re-engaged old hobbies and started new ones. Yes, even during the struggles, there have been some highlights.
It can be easy to reflect on the ups. They feel good. But what about the downs?
The second part of that quote from November's calendar can be more challenging to wrestle with. "What negative experience has brought you something good?"
Looking back on this year, is there a challenge that came with a silver lining for you? Where can you find, in the middle of a negative situation, that glimmer of something positive that you can hang onto? What looked terrible at first, but led to something good – something unexpected?
We're not mindfulness experts, but we have a few in our circle, and the messages we've heard from them has been clear. Our mental health and wellbeing hinges on our ability to focus our minds on the right things. It can be easy to get lost in the challenges and buried underneath all of the negativity. 2020 has been fertile ground for that kind of thinking, and if we spend our time in that negative ground, we'll get buried there as well.
Spending time on gratitude for what we do have, and looking for the silver linings amid our challenges, is what will keep us above ground. Like we said earlier, there will be a few more challenges along the way. But, there will also be a few more wins, and that's where we need to focus our attention.
Looking ahead to the new year that's approaching, we're already thinking about our next calendar. As we've been talking about themes, this idea of silver linings kept coming up over and again. So, with that in mind, here's where we're heading… There are so many inventions we use daily that originated from challenges and struggles. 2021 will be a year where we celebrate the ingenuity, innovation, and imagination that took us from challenges to the solutions we now take for granted every day.
Call-to-Action
You can't focus on two things at once. Today, choose where you're going to focus, keep an eye out for the silver linings, and try to embrace the negatives through the lens of the opportunities they're bringing with them.
Have an example of your own silver lining? What's your "something good?" We'd love to hear from you! Drop us a quick message and let us know where you're seeing the positives in 2020.
Ready for more?
OrangeBall Insights has always been a place to share ideas, explore our purpose and leadership, and chat a little bit about marketing. If this resonated and you'd like to receive weekly ways to bounce higher every day, subscribe here.